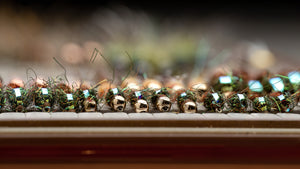 four weeks of instruction
Join an experienced instructor for four week course designed to give you a solid foundation in fly tying.
HOW WE TEACH
We designed this class around the learning basic techniques and manipulating the materials you'll need to tie just about every fly in existence.
Throughout the class your instructor will introduce the core fly types and discuss how best to fish them. You'll leave with a new set of skills and ready to tie and fish your own creations.
This winter we'll be keeping classes small with a maximum of six students in each. If there's enough interest, we'll consider adding more classes.
JANUARY CLASS
Thursday evenings 6:30pm-8:30pm
January 5th, 12th, 19th, 26th
February CLASS
Thursday evenings 6:30pm-8:30pm
February 9th, 16th, 23rd & March 2nd
Got Questions?
Give us a call at (231) 933-4730